Vaccine Education, Information & Other Resources
Vaccine Education, Information & Other Resources

on-campus Vaccine Appointments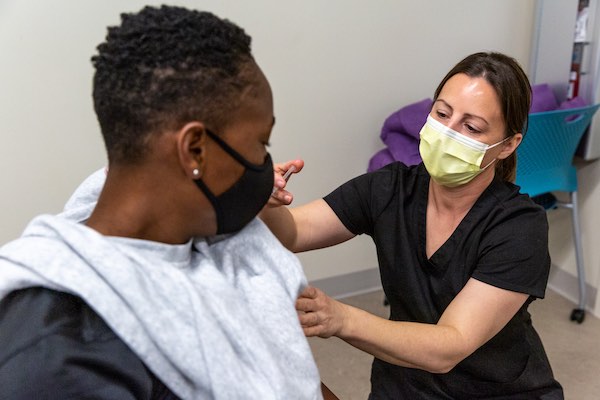 Pat Walker Health Center has resumed on-campus COVID-19 vaccine appointments with a limited number of Pfizer-BioNtech vaccines available.
With semester's end fast-approaching, the health center wants to ensure individuals needing to start the two-dose vaccine series have the option of getting it on campus.
Because of the limited number of vaccines available — along with logistical changes — online vaccine appointment scheduling will not be available for the time being.
University of Arkansas employees and students can schedule their COVID-19 vaccine appointment calling 479-575-4451, option 1.
Appointments are required and second-dose appointments will also be scheduled for convenience.
Vaccines are administered on-site at Pat Walker Health Center — 525 N. Garland Ave.
Vaccines are administered on-site at Pat Walker Health Center — 525 N. Garland Ave.
Parking Information: Parking for vaccine appointments is available across the street in the Garland Avenue Garage – Level 6 (Top Level).
Please make sure to bring to your appointment:
A completed Vaccine Consent Form (must be completed prior to appointment)

University photo identification

Driver's license or other form of photo identification and age verification (for individuals 65+)

Health Insurance card (only required if you have insurance)
Required Observation Period: All patients are required to complete at least a 15-minute, on-site obersvation period.
Cost: There is no cost to you for the COVID-19 vaccine, however PWCH will charge an administration fee to your insurance provider to cover vaccine-related expenses.
Uninsured patients will have fees covered by the Health Resource and Services Administration's Provider Relief Fund.
Off-Campus Vaccination Opportunities
Vaccine availability is increasing at participating pharmacies and providers across the region. The Arkansas Department of Health provides a map and searchable list of pharmacies providing vaccinations across the state. In addition, the state now has a toll-free hotline for assistance with scheduling a COVID-19 vaccination appointment. The line - (800) 985-6030 - will be answered Monday through Sunday, 8 a.m. to 6 p.m. Translation services are available.
Frequently asked questions
University-Related Information
Vaccine Process & Administration
Availability & Distribution
Safety & Efficacy