Vaccine Education, Information & Other Resources
Vaccine Education, Information & Other Resources

on-campus Vaccine Appointments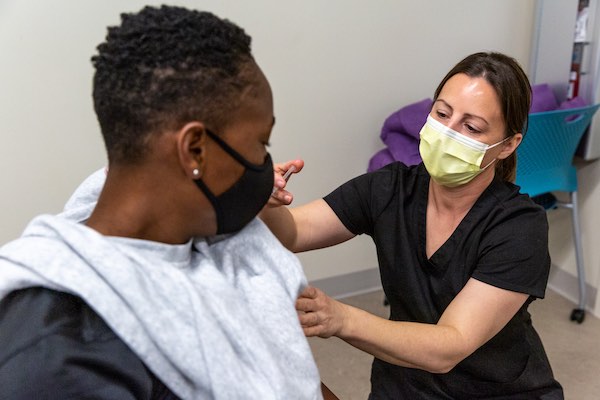 Pat Walker Health Center offers on-campus COVID-19 vaccine appointments for University of Arkansas students, employees and spouses of students/employees.
Appointments can be scheduled online at myhealth.uark.edu or by calling 479-575-4451, option 1.
The health center offers the Pfizer-BioNtech vaccine, as well as the single-dose Johnson & Johnson (Janssen) COVID-19 vaccine.
Vaccines are administered on-site at Pat Walker Health Center — 525 N. Garland Ave.
Parking Information: Parking for vaccine appointments is available across the street in the Garland Avenue Garage – Level 6 (Top Level).
Please make sure to bring to your appointment:
A completed Vaccine Consent Form (must be completed prior to appointment)

University photo identification

Driver's license or other form of photo identification and age verification

Health Insurance card (only required if you have insurance)
Required Observation Period: All patients are required to complete at least a 15-minute, on-site obersvation period.
Cost: There is no cost to you for the COVID-19 vaccine, however PWCH will charge an administration fee to your insurance provider to cover vaccine-related expenses.
Uninsured patients will have fees covered by the Health Resource and Services Administration's Provider Relief Fund.
Off-Campus Vaccination Opportunities
The Arkansas Department of Health provides a map and searchable list of pharmacies providing vaccinations across the state. In addition, the state now has a toll-free hotline for assistance with scheduling a COVID-19 vaccination appointment. The line - (800) 985-6030 - will be answered Monday through Sunday, 8 a.m. to 6 p.m. Translation services are available.
Frequently asked questions
University-Related Information
Vaccine Process & Administration
Availability & Distribution
Safety & Efficacy