Substance Abuse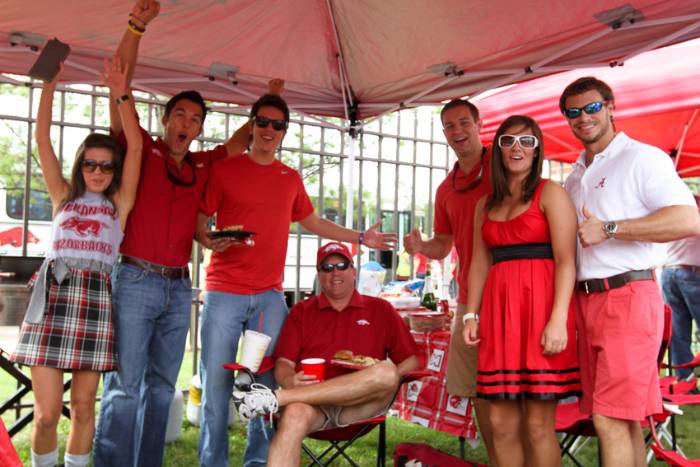 As a signature program of the health center's Wellness & Health Promotion department, Substance Education and Alcohol Resources (SEAR) strives to create a campus culture of responsible and values-based decision-making regarding alcohol and other drug use for students, faculty and staff. SEAR offers a variety of research-based prevention, early intervention, and recovery support services and programs.
SEAR frequently partners with campus groups to promote a learning environment that supports healthy behavior choices, as well as raise awareness about the health risks associated with alcohol abuse and illicit drug.
The University of Arkansas encourages all members of the campus community to familiarize themselves with the annual Alcohol and Other Drug Policy.
SEAR Signature Programs
Razorbacks Offering Accountability Resources (ROAR)

Bystander intervention training

Alcohol Awareness Week

Safe & Sober Spring Break

Woo Pig Sober tailgates
Know the signs of alcohol poisoning! Remember PUBS!
Puking: can't stop throwing up; dry heaving
Unconscious: unresponsive; no reaction
Breathing: Slow, short and choppy breaths
Skin: cold, clammy and possibly blue-ish
Helpful Resources
Substance Education and Alcohol Resources office | alcohol@uark.edu
Pat Walker Health Center | 479-575-4451
Counseling & Psychological Services | 479-575-5276
Dean of Students Office | 479-575-5007
U of A Cares | uofacares.uark.edu
UAPD | 479-575-2222
Do you know about the Razorback Medical Attention & Alternative Resolution Policy?
Its critical students immediately call UAPD when a dangerously intoxicated student needs medical attention. Disciplinary action should not be of concern when a student is confronted with a serious case of alcohol intoxication. Learn more at ethics.uark.edu.
Risk Reduction Strategies
Stay with the same group of friends for the entire evening/event.

Eat before and/or during drinking.

Keep track of the number of drinks you have.

Stick with one type of alcohol.

Avoid drinking games.

Know where your drink came from and what is in it.

Charge your cell phone prior to going out.
Bystander Intervention
Notice the event: what is going on around you, who is around you, where are you, etc.

Determine if the event is a problem or emergency: is the behavior or situation abnormal, does someone look like they need help, is someone drinking/using more than normal, etc.

Assume responsibility: if you are the one who notices that something is wrong, you are the perfect person to do something about it.

Know how to help:

Emergency: Remove the person from the situation; administer CPR, take away car keys; drive the person home; find them a sober driver; Call 911; distract people involved; get other people to help you; call a sober friend.

Non-emergency: Talk to the person about the problem; encourage your friend to report the problem/incident; speak to an RA, CRE, counselor, dean, or other resource; learn more about the topic.