CAPS Ambassador Program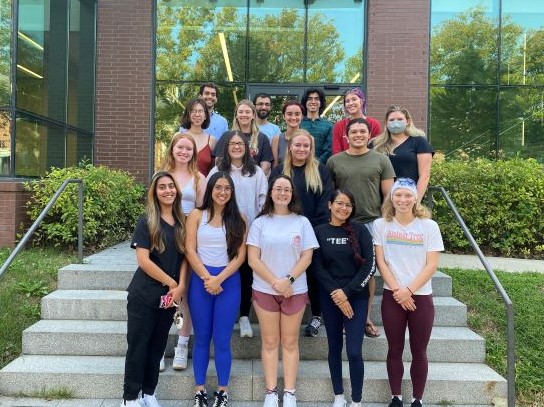 The CAPS Ambassador Program aims to reduce the stigma associated with seeking mental health resources and services by raising awareness and engaging students during CAPS outreach initiatives and events.
Through peer-to-peer education, CAPS student ambassadors will empower students to recognize mental health struggles, as well as help them develop skills necessary to better manage concerns or where they can get help.
Educate campus community about CAPS' mental health resources and programs.
Promote the importance of mental wellness.
Address and reduce negative stigmas associated around seeking mental health resources and services.
Participate in planning, promoting and implementing various CAPS outreach events and initiatives that focus on awareness and prevention of mental illness, especially suicide and depression.
Deliver presentations to various groups, classes and other public settings.
Staff CAPS information tables at various informational events.
Each ambassador will have the opportunity improve the following skills:
Public speaking / Group presentation experience
Leadership and planning skills
Larger understanding of mental wellness in general
Understanding of the function of mental health services and resources on a college campus
For applicants to be considered, each student must be able to meet the following time commitments:
Attend the mandatory weekend retreat (the weekend before start of classes).
Attend weekly member meetings: Every Wednesday at 5 p.m. (during Fall/Spring semester only).
Be available for 2- 4 hours each week for various ambassador responsibilities. Subject to change week-to-week depending on which (if any) outreach activities you are involved in on that specific week.
Ambassadors should also have flexibility in their schedules to engage in various outreach activities, such as providing presentations, hosting CAPS information tables and other outreach initiatives.
To be considered as an Ambassador, applicants must:
Make at least a two-semester commitment as an Ambassador.
Have and maintain a 2.75 GPA
Regularly attend Ambassador meetings, retreats, and all trainings.
Participate in at least two (2) outreach-based activities during first semester as ambassador; must participate in four (4) outreach-based activities per semester in order to maintain active membership in the program.
The CAPS Ambassadors Application process opens during the Spring semester for the next academic year.
Questions about CAPS Ambassador Program?
Email Alejandro Ruiz-Garcia, CAPS Ambassadors Coordinator
2023 CAPS Ambassadors Interest form: https://forms.gle/tJZ6uLP4EK6vyvfx5
Connect with the CAPS Ambassadors on Instagram