Counseling & Psychological Services
Counseling & Psychological Services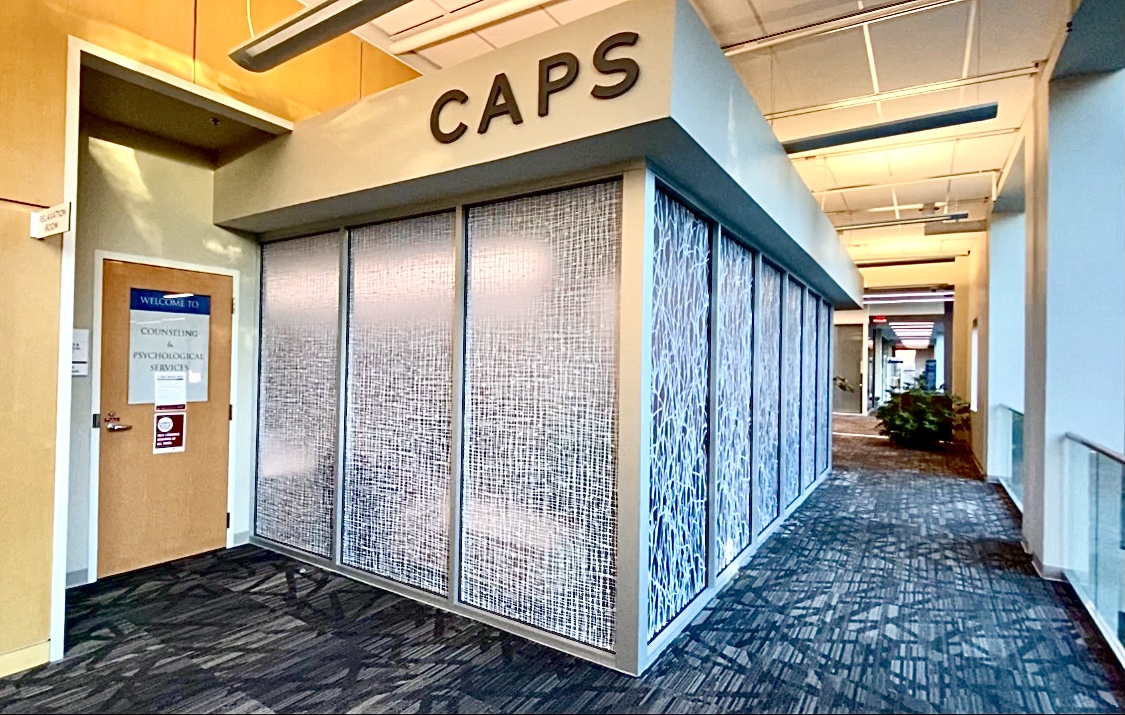 Support Student Mental Health - Donate to CAPS
Pat Walker Health Center's Counseling & Psychological Services (CAPS) remains more committed than ever in supporting University of Arkansas students during these unprecedented and challenging times.
CAPS recognize students may be struggling right now with anxiety, grief, sadness, confusion, loneliness and other difficulties in the midst of navigating a global health pandemic, financial hardships, increased social disconnection and continued racial injustice and unrest.
Whatever the struggles — and regardless of how and/or where student learning takes place — CAPS is here to help.
Getting Started with CAPS
CAPS offers students several ways to connect with mental health services and resources, most of which are covered by the Student Health Fee, so there are no out-of-pocket costs.
Let's Talk is an informal, brief, problem-focused consultation for those who may not really be interested in continued services but have something specific that they want to talk to a counselor about. Let's Talk sessions are also for those who are unsure about counseling and want to try it out.
Spring 2022 Information
Let's Talk @ the Union
Wednesdays, 1:15pm – 2:45pm (3/30, 4/6, 4/13, 4/20, 4/27, 5/5)
These consultations are in-person; first come, first serve

Find us near the food court
Let's Talk @ Morgan Hall
Mondays, Morgan Hall, 10:15am-11:45am (3/28, 4/4, 4/11, 4/18, 4/25, 5/2)
These consultations are in-person; first come, first serve

Find us at the entrance to Morgan Hall
An Initial Consultation is an information gathering appointment and tool for CAPS Mental Health Clinicians to match students to the appropriate options for care.
Initial Consultations are offered at varied times, Monday through Friday. Students will need to fill out required paperwork and then will meet with a clinician for approximately 30-minutes.
During the appointment, you and a CAPS mental health clinician will talk about the nature of your concerns, existing coping skills, additional resources/strategies and our services. From there, you and your CAPS mental health clinician will determine the most appropriate next steps based on CAPS Care Matching Model.
These might include any combination of referrals to a campus resource, referral to groups/workshops, counseling services, psychiatric services, case management, or referral to a community provider.
Initial Consultations: Stop by CAPS for a first come, first serve, walk-in consultation Monday - Thursday from 8:30am-10am & 1pm-3pm; Friday from 9am-10am & 1pm-3pm. Call 479-575-5276 if you have questions.
Important: Throughout the semester, CAPS at times may have very limited availability for on-going individual counseling. CAPS Mental Health Clinicians will partner with you to identify the most appropriate care and resources based on the CAPS Care Matching Model. CAPS offers several resources in addition to individual counseling, such as groups, workshops, outreach, assistance connecting to community providers and/or other campus support, etc.
*Please let our staff know if you would like your Initial Consultation to be with a Person of Color or with someone who speaks Spanish.
Learn more about CAPS services.
CAPS offer a limited number of same day urgent appointments with an on-call mental health clinician.
Same Day appointments require completing paperwork right away and then meeting with an on-call clinician if possible (for urgent/emergency situations that cannot wait for the next available scheduled appointment).
Please call CAPS at 479-575-5276 to inquire about same-day appointment availability.
QUICK LINKS
Support During a Pandemic of Racism
Diversity, Equity & Inclusion Resources
CAPS is always available if you need support. Mental health services are available 24/7 by phone at 479-575-5276.
GROUPS, TOOLS & RESOURCES
CAPS Support & Process Groups
Engaging in group therapy offers many benefits. CAPS offers a variety of weekly, virtual therapy and support groups at no cost to you.
Learn More
Online Workshops & Webinars
Access a variety of online workshops and webinars addressing common concerns and topics. Sign-up for a workshop series, or watch a webinar.
View Available Webinars
Hogs For Mental Health Resource
Check out CAPS' new mental health resource page. Find out more about different resources and outreach events happening on campus!
Visit mentalhealth.uark.edu