Mental Health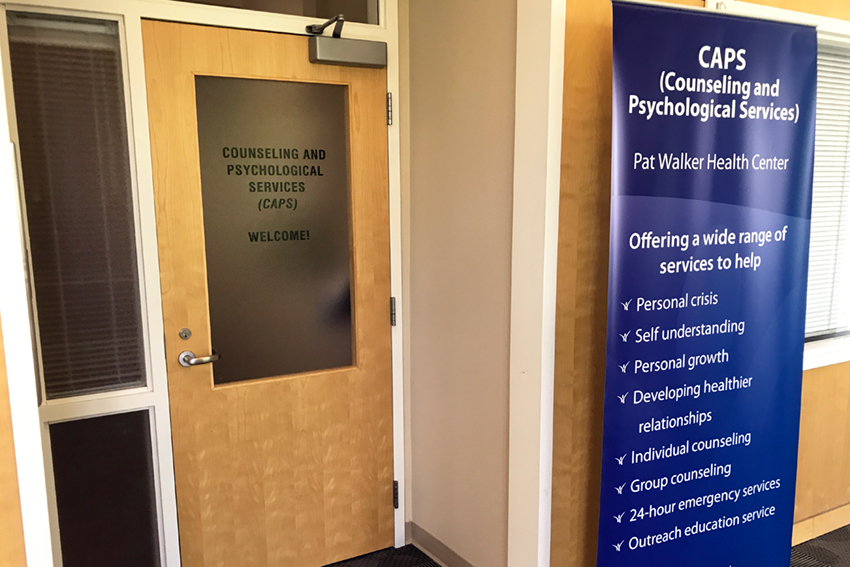 Pat Walker Health Center advocates for inclusion, diversity, multi-culturalism, and social justice by striving to attend to the impact of oppression and privilege in our society.
Counseling and Psychological Services (CAPS)
Counseling and Psychological Services help students navigate the pressures of college-life and beyond with various evidence-based mental health services and programs. All CAPS programs and services are designed to meet the academic, developmental, remedial and preventive needs of the campus community.
Our staff is comprised of professionally licensed mental health clinicians (psychologists, licensed professional counselors, licensed clinical social workers), as well as board certified psychiatrists. We also have multiple half-time and full-time trainees available to provide counseling under the supervision of a licensed mental health professional.
CAPS is located on the second floor of the health center, and is open 8 a.m. to 5 p.m., Monday through Friday. All non-emergency CAPS services require an appointment. Students can schedule an appointment with CAPS by calling 479-575-5276.
CAPS Services
Short-term individual counseling
Psychiatry
Group Therapy & Workshops
24-hour Emergency Services
Case management
Outreach & Prevention
Advocacy
Consultations
Training Programs
Scheduling a CAPS Appointment
To schedule a CAPS appointment, call 479-575-5276. Initial assessments with a mental health clinician are required before starting individual counseling, select group therapy and/or psychiatric services.
New clients: Initial assessments are offered at varied times, Monday through Friday. You may call 479-575-5276 to schedule a time that works for you. You MUST arrive 30 minutes prior to your scheduled appointment time to complete various intake forms. You will meet with a clinician for approximately 30 minutes.
During the assessment, the clinician will ask you about the nature of your concerns and assess the severity of the problems, existing coping skills and additional resources/strategies.
At the completion of the session, you and the clinician will determine the most appropriate next steps. These might include any combination of counseling services, psychiatric services, case management, referral to a campus resource or referral to a community provider.
Returning clients: You may be asked to return through an initial assessment depending on when you were last seen at CAPS. Call 479-575-5276 and inform the front office staff of your situation; they will schedule the appropriate appointment.
Missed Appointments and Late Cancellations
Charges apply for missed appointments or appointments not canceled at least 24-hours in advance:
Psychiatric new patient | $60
Psychiatric established patient | $40
Counseling & Case Management No Show / Late Cancellation | $20
Top Four Reasons Students See CAPS:
Anxiety
Depression
Stress
Family & Relationship Issues
All fee-associated CAPS services are billed to the student's UAConnect account. CAPS does not accept or bill insurance. If you prefer to use insurance benefits after an initial assessment at CAPS, we can refer you to a community-based provider. Because access to key mental health services is a top priority for the university, a Reduced Charges Program is available to qualifying students.
Confidentiality
The confidentiality of counseling relationships is maintained in a manner consistent with accepted professional standards, and with local, state and federal statutes. Information shared in counseling sessions is confidential and, except in rare circumstances, shall not be divulged unless prior written consent is obtained from the client. Information can be forwarded to other professionals with written consent. Information released to third parties shall be in the form of treatment summaries and/or test results and not include copies of case notes maintained by counselors.
CAPS Release of Confidential Information Authorization Form