Counseling & Psychological Services
Counseling & Psychological Services
WHAT WE DO
Pat Walker Health Center's Counseling & Psychological Services (CAPS) is committed to supporting the University of Arkansas students with all mental health care needs. CAPS offers critical mental health services such as individual counseling, group counseling, psychiatry, emergency services, and case management.
CAPS programs and services are designed to meet the academic, developmental, remedial, and preventive needs of the university community. CAPS is also available to provide outreach presentations to faculty and staff as requested and available. Most services through CAPS are covered by the student health fee. Only some services, such as psychiatry, have minimal charges.
See the "Services" section of our website for information on how to make an appointment and what to expect.
CAPS CARE MATCHING MODEL
The CAPS Care Matching Model is designed to identify an individualized plan to promote student autonomy and empowerment in their care.
The options provided to students are tailored to meet their specific needs using a diversity of resources offered by the counseling center, campus partners, and community providers.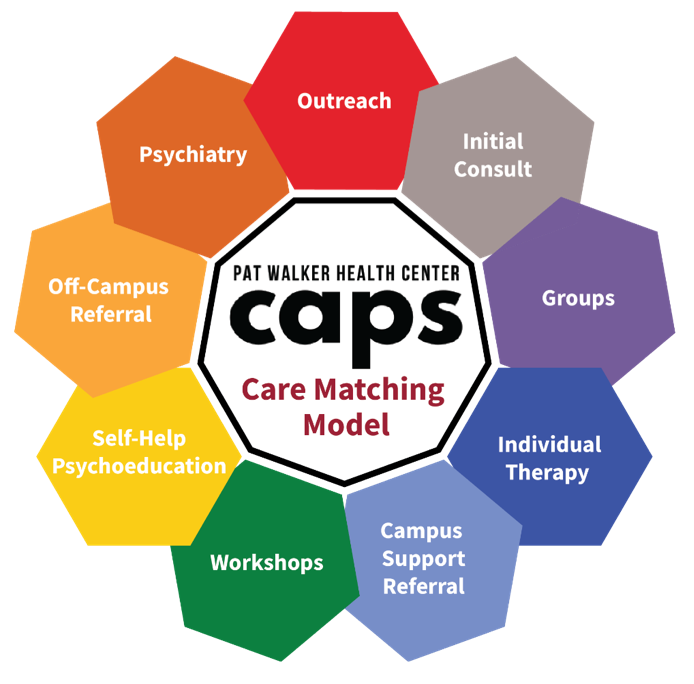 Goals of the Care Matching Model
Increase access to mental health care and education

Manage resource-intensive and evidence-based treatment services that will improve student outcomes in well-being

Match students effectively with CAPS services, other campus/community resources, and/or support systems based on professional clinical judgment and student-specific needs
Care Matching Services & Programs
Outreach | Initial Consult | Refer to Campus Support | Workshop | Support & Process Group | Referral Off Campus
Individual Therapy | Psychiatry |Self-Help Education
Getting Started with CAPS
CAPS offers students several ways to connect with mental health services and resources, most of which are covered by the Student Health Fee, so there are no out-of-pocket costs.
Please stop by CAPS or call for more information about services. The first appointment with a CAPS Clinician is called an Initial Consultation. This is not a counseling session, but rather a tool for CAPS mental health clinicians to match students to the appropriate options for care.
If you are outside the state of Arkansas and need mental health services, we recommend seeking care in your local community. For more information on how to connect with a therapist in your home community, search Psychology Today's 'Find a Therapist' resource or call CAPS at 479-575-5276.
GROUPS, TOOLS & RESOURCES
CAPS Groups & Workshops
Engaging in group therapy offers many benefits. CAPS offers a variety of weekly therapy and support groups, as well as workshops.
Groups & Workshops Available
Hogs for Mental Health Resource
Check out CAPS' mental health resource page. Find out more about different resources and outreach events happening on campus!
Go to Resource Page
Outreach & Events
CAPS offers outreach presentations, hosts various events and outreach programs such as "Let's Talk" & more.
Outreach & Events
QUICK LINKS
Diversity, Equity & Inclusion Resources
CAPS is always available if you need support. Mental health services are available 24/7 by phone at 479-575-5276.
OUR SUPPORTERS

Other Supporters: Alpha Omicron Pi, Craig Andrew Lipson, Anne Nichole Russel, Royal Hart, William Joyner, Hua Wang, Mary Alice Serafini, Victor Wilson, Helene Wommack, Devanee Williams, Dan J Veshia, Sue Harris, Amy Wessenberg, Kacey Ware, Nicole Roe, Laurie Rigon, Michele Cooper, Danette Horne, Josette Cline