Let's Talk
Let's Talk is a CAPS outreach program that offers students convenient access to brief, informal consultations with a mental health clinician.
Students are encouraged to sign-up and talk about what's important to them.
Some possible reasons to see a Let's Talk counselor:
Academic struggles

Anxiety and nervousness

Feeling down/sad

Financial anxieties

Relationship and family issues

Stress
Consultations are free, no appointment is necessary, and students are seen on a first-come, first-serve basis.
Just sign-up for an informal, friendly, and confidential consultation. Speaking with a clinician can help provide insights, solutions and information about other resources.
All Let's Talk consultations are confidential. Mental Health records will be taken in accordance with state and federal laws and privacy rights.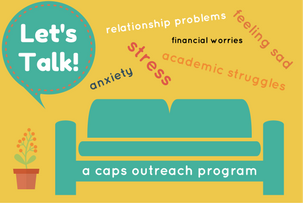 Summer 2021 Schedule
Let's Talk sessions are available virtually 9 to 11 a.m. and 2 to 4 p.m., Monday through Friday. Please call 479-575-5276 to sign-up for a Let's Talk session.
You can also request a Let's Talk Consultation online by using the following link: https://uark.qualtrics.com/jfe/form/SV_1Bs4yZ2XamaBuQJ
You will receive a confirmation email verifying your day/time slot along with a Zoom link to access Let's Talk during your scheduled time. Please remember you must sign up a minimum of 24 business hours in advance to participate for the current week of Let's Talk consultations.
These consultations should not be used for emergency purposes. If you are having a mental health emergency, please call CAPS at 479-575-5276 to speak with an on-call clinician.
If you have questions, if you prefer to sign up by phone, or wish to do a Let's Talk without giving 24 hours' notice, call CAPS and let the front office know that you would like to do a virtual Let's Talk consultation.
Fall 2021 Information
Let's Talk @CAPS M-F, 9am-11am & 2pm-4pm
Let's Talk @other on-campus locations, Mondays, 11:15am – 12:45pm,
In-person; First come, first serve.

Starting August 23rd every other Monday: Let's Talk @The Union - Find us in the Flag Room or near the food court in room 301.

Starting August 30th every other Monday: Let's Talk @The Graduate Student Lounge - Find us in room 206, Gearhart Hall.
Let's Talk FAQs