Let's Talk
Let's Talk is a CAPS outreach program that offers students convenient access to brief informal consultations with a licensed mental health clinician at different sites across campus. Students are encouraged to drop by and talk about what's important to them.
Some possible reasons to see a Let's Talk counselor:
Academic struggles

Anxiety and nervousness

Feeling down/sad

Financial anxieties

Relationship and family issues

Stress
Consultations are free, no appointment is necessary, and students are seen on a first-come, first-serve basis.
Just drop in for an informal, friendly, and confidential consultation. Speaking with a clinician can help provide insights, solutions and information about other resources.
All Let's Talk consultations are confidential. Mental Health records will be taken in accordance with state and federal laws and privacy rights.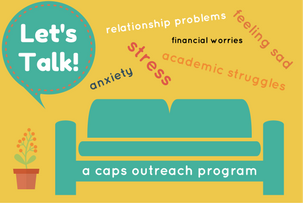 Spring 2020 Let's Talk Locations
Tuesdays | 2-4 p.m. | Gearhart Hall, Room 206 – Graduate Student Lounge
Wednesdays | 1-3 p.m. | Leflar Law Center - Atrium
FAQ