Let's Talk
Let's Talk is a CAPS outreach program that offers students convenient access to brief, informal consultations with a mental health clinician.
Students are encouraged to sign-up and talk about what's important to them.
Some possible reasons to see a Let's Talk counselor:
Academic struggles

Anxiety and nervousness

Feeling down/sad

Financial anxieties

Relationship and family issues

Stress
Consultations are free, no appointment is necessary, and students are seen on a first-come, first-serve basis.
Just sign-up for an informal, friendly, and confidential consultation. Speaking with a clinician can help provide insights, solutions and information about other resources.
All Let's Talk consultations are confidential. Mental Health records will be taken in accordance with state and federal laws and privacy rights.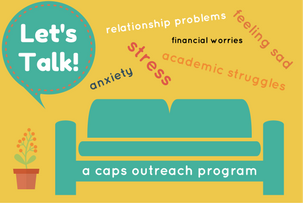 Fall 2020 Schedule
Let's Talk sessions are available virtually 9 to 11 a.m. and 2 to 4 p.m., Monday through Friday. Please call 479-575-5276 to sign-up for a Let's Talk session.
Prime Time: Let's Talk Consultations
CAPS mental health clinicians and interns are available for "Prime Time" Let's Talk on Monday evenings via Zoom from 5pm-7pm, starting 9/14.​
Use the link below to sign up with your uark email address and you will receive an email with a Zoom link, through which you can access Let's Talk at the scheduled day and time.
If you do not receive an email or have any questions, please contact CAPS at 479-575-5276.
These are brief, confidential, (first come first serve) consultations available to all U of A students, faculty and staff.
Please note: You must sign up a minimum of 24 hours in advance in order to participate that week. If we have too many people signed up for the time frame, you will be notified and automatically moved to the following week.
Click to Sign Up for "Prime Time" Let's Talk
Let's Talk FAQs