Let's Talk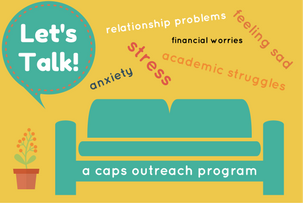 Let's Talk is a CAPS outreach program that offers students convenient access to brief, informal consultations with a mental health clinician.
Students are encouraged to sign-up and talk about what's important to them.
Some possible reasons to see a Let's Talk counselor:
Academic struggles

Anxiety and nervousness

Feeling down/sad

Financial anxieties

Relationship and family issues

Stress
Consultations are free, no appointment is necessary, and students are seen on a first-come, first-serve basis.
All Let's Talk consultations are confidential. Mental Health records will be taken in accordance with state and federal laws and privacy rights.
Let's Talk consultations should not be used for emergency purposes. If you are having a mental health emergency, please call CAPS at 479-575-5276 to speak with an on-call clinician.
Spring 2023 Information
Let's Talk @ The Union - Mondays, 10:15am - 11:45am
These consultations are in-person; first come, first serve
Find us near the food court at Info Table 2

Mondays, January 23 - May 3
Let's Talk @

the Multicultural Center (lounge

)- Wednesdays, 1:15pm - 2:45pm
These consultations are in-person; first come, first serve
Find us in the lounge of the MC

Wednesdays, January 23 - May 3
Let's Talk FAQs