Outreach & Prevention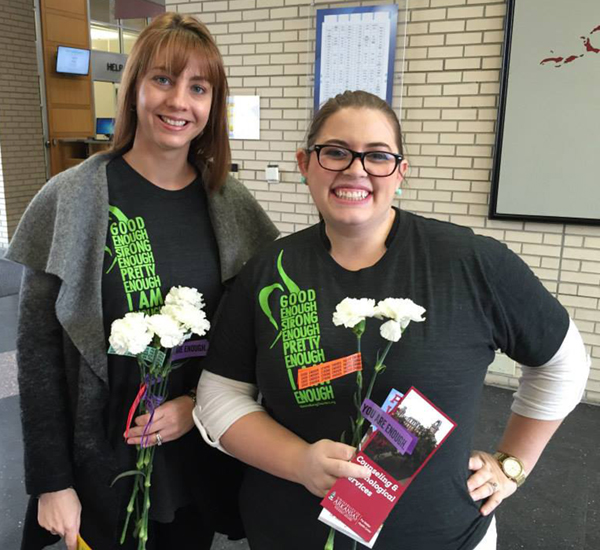 CAPS actively works to raise mental health awareness on campus. Invite CAPS to your classroom, training event, or meeting to discuss mental health topics, and be sure to look for CAPS around campus during their several campus-wide events.
Workshops
Request a free workshop from a mental health clinician! CAPS offers personalized workshops for campus groups. Topics we have presented on in the past include:
Recognizing distress
Surviving graduate school
Coping with stress
Understanding anxiety and depression
Healthy relationships
Body image
Communication and conflict resolution skills
Culture shock
Emotional Wellness
To request a CAPS workshop, email Kendra Glasper, CAPS Outreach Coordinator. Include date, time, location, workshop format (discussion, presentation, lecture, etc.) and any special requests. Please allow at least two weeks for our staff to prepare for your requested workshop.
Campus Events
Throughout the school year, CAPS hosts campus-wide events to help raise awareness about mental health. Each campus event offers students the opportunity to learn how to take better care of their mental health, as well as participate in contests and pick-up free swag!
Look for CAPS at popular events like National Depression Screening Day and Play Day.
Consultation and Debriefing
CAPS offers consultation and/or debriefing to help the campus community cope with unexpected challenges.
Suicide Prevention
Suicide is the second leading cause of death among college-age individuals, which is why CAPS partners with a wide range of campus groups and departments to build comprehensive initiatives for suicide prevention, intervention and postvention. CAPS also works closely with the campus community when affected by a suicide.
CAPS is constantly searching for innovative ways to spread prevention efforts throughout the campus community. Suicide prevention efforts have been represented at many events throughout the academic year. In early September, events and activities are organized throughout the week to raise awareness during Suicide Prevention Week. Departments and student groups interested in receiving more personalized training, presentations, discussions or representation at an event are encouraged to contact CAPS at 479-575-5276.
Learn more about suicide prevention at http://www.suicidepreventionlifeline.org/ or by calling 1-800-273-TALK (8255). Crisis text line 741-741.
Kognito At-Risk offers an interactive training for students, staff, and faculty on useful skills to help create a safer UofA community. Some college students face stressors that can impact their life and academic success. While some stress is expected, we need to be able to recognize when that stress turns to distress. The ability to notice signs of distress in another student, and then having a conversation about that distress and staying safe, is a very important skill to have. At the University of Arkansas, it is our shared responsibility to look out for and support one another.

The Kognito At-Risk online training simulation will help you to:
Identify students who are at risk for suicide.
Motivate distressed students to seek help.
Put students in touch with support services
Interactive Screening Program
The Interactive Screening Program (ISP) is an online program utilized by mental health services at institutions of higher education, law enforcement agencies, workplaces, and Employee Assistance Programs (EAP). ISP provides a safe and confidential way for individuals to take a brief screening for stress, depression, and other mental health conditions, and receive a personalized response from a caring mental health counselor.