Counseling & Psychological Services
Counseling & Psychological Services
CAPS Appointments
University of Arkansas students who are interested in getting started with CAPS can walk in during business hours (Monday-Thursday 8AM-5PM or Friday 9AM-5PM) or call 479-575-5276 to discuss options. CAPS also offers 24-hour emergency mental health services for students, faculty and staff by calling 479-575-5276.
WHAT WE DO
Pat Walker Health Center's Counseling & Psychological Services (CAPS) is committed to supporting the University of Arkansas students with all mental health care needs. CAPS offers critical mental health services such as short-term individual counseling, group counseling, psychiatry, 24/7 emergency mental health services, and case management.
CAPS programs and services are designed to meet the academic, developmental, remedial, and preventive needs of the university community. CAPS is also available to provide outreach presentations to faculty and staff as requested and available. Most services through CAPS are covered by the student health and wellness fee. Only some services, such as psychiatry, have minimal charges.
See the "Services" section of our website for information on how to make an appointment and what to expect.
CAPS CARE MATCHING MODEL
At CAPS, we strive to facilitate the total development of students by reducing psychological problems and distress and by enhancing mental health, well-being, quality of life, and supporting aspirations to "be well to do well." Our primary focus is on providing short-term, confidential counseling aimed at helping students succeed academically and interpersonally.
To do so, CAPS utilizes a Care Matching Model that is designed to identify an individualized plan to promote student autonomy and empowerment in their care.
The options provided to students are tailored to meet their specific needs using a diversity of resources offered by the counseling center, campus partners, and community providers.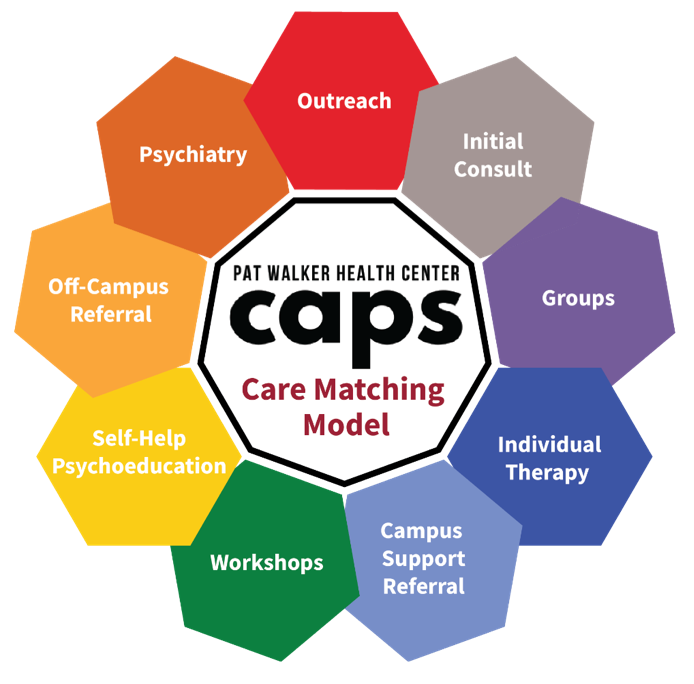 Goals of the Care Matching Model
Increase access to mental health care and education

Manage resource-intensive and evidence-based treatment services that will improve student outcomes in well-being

Match students effectively with CAPS services, other campus/community resources, and/or support systems based on professional clinical judgment and student-specific needs
Care Matching Services & Programs
Outreach | Initial Consult | Refer to Campus Support | Workshop | Support & Process Group | Referral Off Campus
Individual Therapy | Psychiatry |Self-Help Education
Getting Started with CAPS
CAPS offers students several ways to connect with mental health services and resources, most of which are covered by the Student Health & Wellness Fee, so there are no out-of-pocket costs (except for psychiatry services which can be billed to insurance or through self-pay).
Please stop by CAPS or call for more information about services. The first appointment with a CAPS Clinician is called an Initial Consultation. This is not a counseling session, but rather a tool for CAPS mental health clinicians to match students to the appropriate options for care.
If you are outside the state of Arkansas and need mental health services, we recommend seeking care in your local community. For more information on how to connect with a therapist in your home community, search Psychology Today's 'Find a Therapist' resource or call CAPS at 479-575-5276.
An Initial Consultation is an information gathering appointment and tool for CAPS Mental Health Clinicians to match students to the appropriate options for care.
Initial Consultations are offered at varied times, Monday through Friday. Students will need to fill out required paperwork and then will meet with a clinician for approximately 30-minutes.
During the appointment, you and a CAPS mental health clinician will talk about the nature of your concerns, existing coping skills, additional resources/strategies and our services. From there, you and your CAPS mental health clinician will determine the most appropriate next steps based on CAPS Care Matching Model.
These might include any combination of referrals to a campus resource, referral to groups/workshops, counseling services, psychiatric services, case management, or referral to a community provider.
Initial Consultations: Stop by CAPS for a first come, first serve, walk-in consultation Monday - Thursday from 8:30am-10am & 1pm-3pm; Friday from 9am-10am & 1pm-3pm. Call 479-575-5276 if you have questions.
Returning clients:You may be asked to return through an initial consultation depending on when you were last seen at CAPS. Call 479-575-5276 and inform the front office staff of your situation; they will schedule the appropriate appointment.
Important: Throughout the semester, CAPS at times may have very limited availability for on-going individual counseling. CAPS Mental Health Clinicians will partner with you to identify the most appropriate care and resources based on the CAPS Care Matching Model. CAPS offers several resources in addition to individual counseling, such as groups, workshops, outreach, assistance connecting to community providers and/or other campus support, etc.
*Please let our staff know if you would like your Initial Consultation to be with a Person of Color or with someone who speaks Spanish.
Learn more about CAPS services.
CAPS offers a limited number of same day urgent appointments with an on-call mental health clinician.
Same Day appointments require completing paperwork right away and then meeting with an on-call clinician if possible (for urgent/emergency situations that cannot wait for the next available scheduled appointment).
Please call CAPS at 479-575-5276 to inquire about same-day appointment availability.
Let's Talk is an informal, brief, problem-focused consultation for those who may not really be interested in continued services but have something specific that they want to talk to a counselor about. Let's Talk sessions are also for those who are unsure about counseling and want to try it out. For information about the days, times, & locations check here.
CAPS continues to offer emergency and same-day services for students, faculty or staff experiencing a mental health crisis. The CAPS 24/7 Emergency Phoneline also remains available.
CAPS 24/7 Emergency Phoneline: 479-575-5276
UA Police Department: 479-575-2222
Dial 9-1-1 or go to your local emergency room or psychiatric care facility.
Suicide Hotline: 1-800-273-8255
Crisis Text Line: 741741
Students with a current prescription from one of our psychiatric providers can continue with their medication to the best of our ability in accordance with Arkansas law and APA guiding principles.
Students can request prescription refills directly through the Patient Web Portal.
If you have questions or concerns, please call 479-575-5276.
GROUPS, TOOLS & RESOURCES
CAPS Groups & Workshops
Engaging in group therapy offers many benefits. CAPS offers a variety of weekly therapy and support groups, as well as workshops.
Groups & Workshops Available
Hogs for Mental Health Resource
Check out CAPS' mental health resource page. Find out more about different resources and outreach events happening on campus!
Go to Resource Page
Outreach & Events
CAPS offers outreach presentations, hosts various events and outreach programs such as "Let's Talk" & more.
Outreach & Events
QUICK LINKS
Diversity, Equity & Inclusion Resources
CAPS is always available if you need support. Mental health services are available 24/7 by phone at 479-575-5276.
OUR SUPPORTERS

Other Supporters: Alpha Omicron Pi, Craig Andrew Lipson, Anne Nichole Russel, Royal Hart, William Joyner, Hua Wang, Mary Alice Serafini, Victor Wilson, Helene Wommack, Devanee Williams, Dan J Veshia, Sue Harris, Amy Wessenberg, Kacey Ware, Nicole Roe, Laurie Rigon, Michele Cooper, Danette Horne, Josette Cline
CAPS Instagram
Instagram Feed @uarkcaps